A customer marks the Royal Banking emblem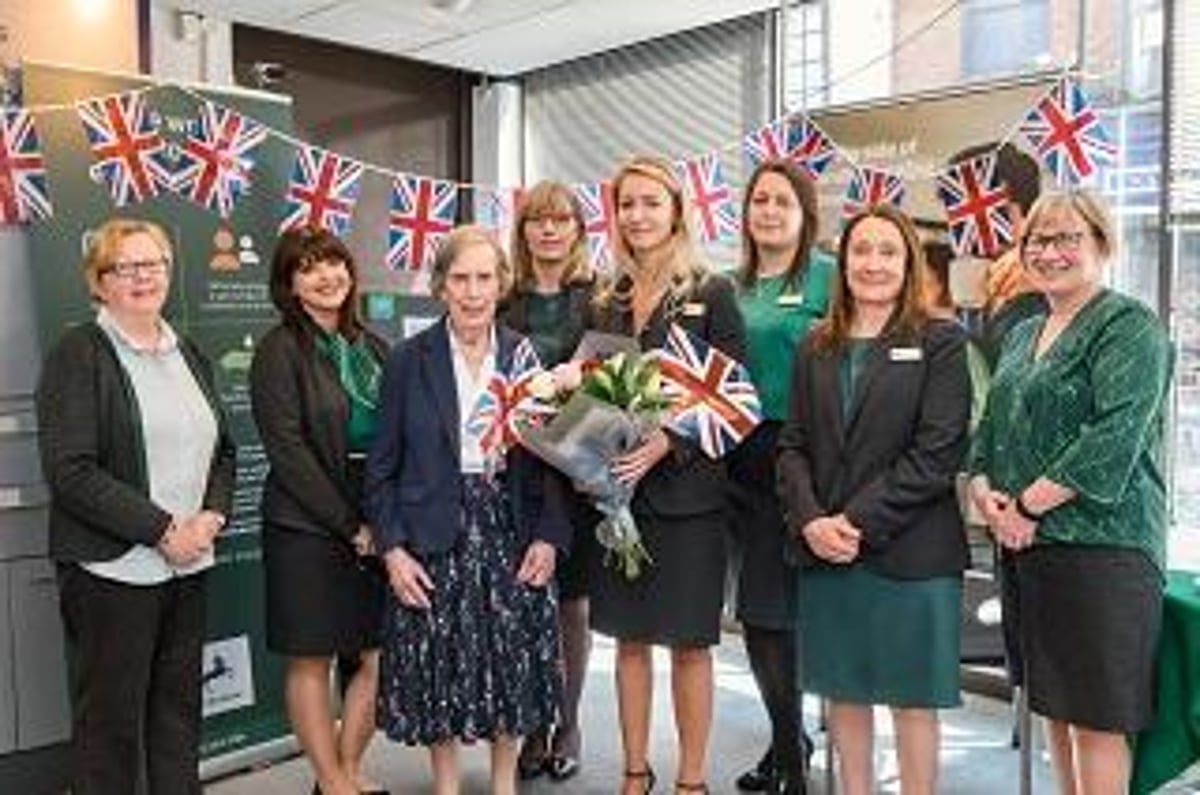 Barbara Brearley, 84, from Hagworthingham with Lloyds staff.
To mark Her Majesty The Queen's Platinum Jubilee, Lloyds Bank has identified customers who opened their accounts on the same day as the Queen's coronation and on that date over the following six decades.
Mrs Barbara Brearley, 84, from Hagworthingham, was selected as a 'Crown client', having opened her bank account on the 10th anniversary of the Queen's coronation in June 1963.
She recently spent the day with Lloyds Bank staff at their local branch in Horncastle and received a special celebratory basket from Fortnum and Mason to recognize the royal connection with which she began doing business with Lloyds.
Reflecting on her life over the past 70 years, Ms Brearley said: 'I vividly remember the Queen's coronation at Westminster Abbey in 1953.
"I was only 15 at the time and we were watching the event on a postage stamp sized TV! Since then I have seen every major Queen event.
"For me the most memorable royal moment must have been when Prince Charles attended a football match which I also attended in Ashbourne in 2003. It was just nice to be at the same event as him."
As for how Ms Brearley has learned to manage her money over the past seven decades, she said her childhood and school years helped lay the foundation. "When I was a kid I always had a piggy bank. At school we had to put our money in the 'bank', we had a 'chequebook' and if we wanted money we had to make sure we got it. 'have enough to get us through until the end of term When asked the financial advice Ms Brearley tried to follow was 'don't have it, if you can't afford it ".
Across the country, when asked to consider the best financial advice they've ever received, just 3% of Brits said they spend like there's no tomorrow. The nation is far more likely to agree that retiring as soon as possible is the best advice, with nearly a quarter (24%) of 55-64 year olds saying it's the best advice they ever gave. received.
Jo Harris, chief executive of Lloyds Bank, said: "During the Queen's reign there have been significant changes in all aspects of life, including our finances. Over the past seven decades we have seen so many of these changes alongside our customers and whether it is the introduction of debit cards and ATMs or online banking, we will continue to help customers to manage their money how and when they want.